Just a couple of updates of things that have been going on here...
Our county fair is coming up in August, so we've been getting ready for it. The rabbits needed tattoos in their ears, for identification at the fair. Last year our Extension agent came out to help us tattoo, but this year I knew we could do it on our own. I have tattooed cattle before, so I figured I'd tattoo the rabbits and Devin could hold them. I quickly realized the rabbits were pretty squirmy and he'd get scratched up, and there was a chance the rabbits could get loose. So I held the rabbits and Devin tattooed them. Not many 10 year olds know how to tattoo rabbits! Kylee rubbed the ink in the rabbits' ears after Devin tattooed them. We made a pretty efficient team! The green in their ears is tattoo ink. The green bummed rabbits are bucks, and the orange bummed ones are does.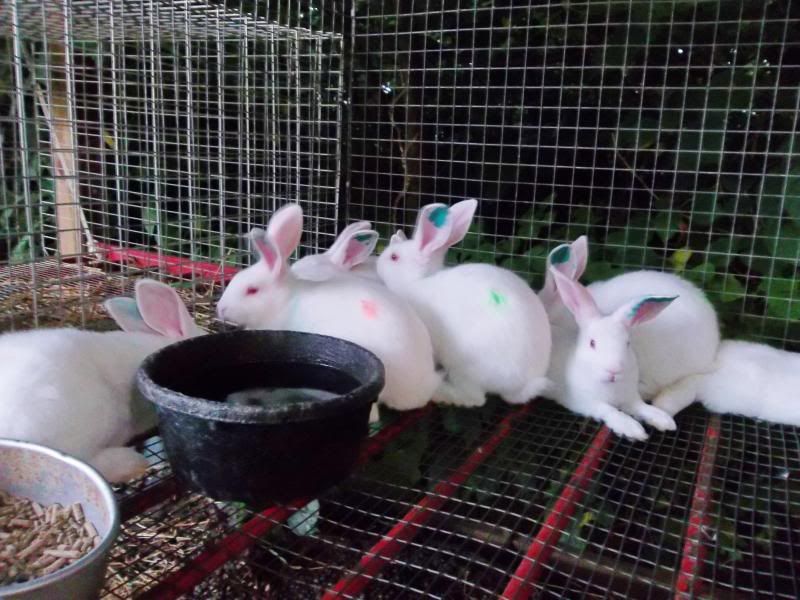 We've had an incredibly rainy spring/summer so far, and one of my round bales of hay got totally ruined from the rain. I had been setting the bales on pallets and covering it with a tarp (using a cinder block under the tarp to keep it up off the hay), but with so much rain the tarp was just not working at all. The bale molded through in record time.
We knew we needed to come up with a permanent solution because moving the round bales is a pain in in the neck since we don't have a tractor that can pick them up. We decided to build a simple roofed shelter to keep the bales dry.
It was such a huge relief knowing the bale will be dry from now on. And the best part is I don't have to wrestle with a huge tarp!
We've been pretty busy around here but it's hard to remember to take pictures and then hard to find the time to blog about it. I'll try to keep doing little updates like this now and then, because I really like to be able to look back and see what we were doing.