We had some great winter weather last week, finally. Seems like we're never going to get any real snow (you know, more than a couple inches), but we finally got about an inch before the weekend. I'm a cold weather person, and I love winter, but it's hard to love winter when it has been mild and rainy most of the season.
The wild birds have been very hungry, and have been at the feeder every moment between dawn and dusk. This is one of my favorite Christmas presents from David this year. He got me this great bird feeder with two suet holders. I love watching the birds from the kitchen window.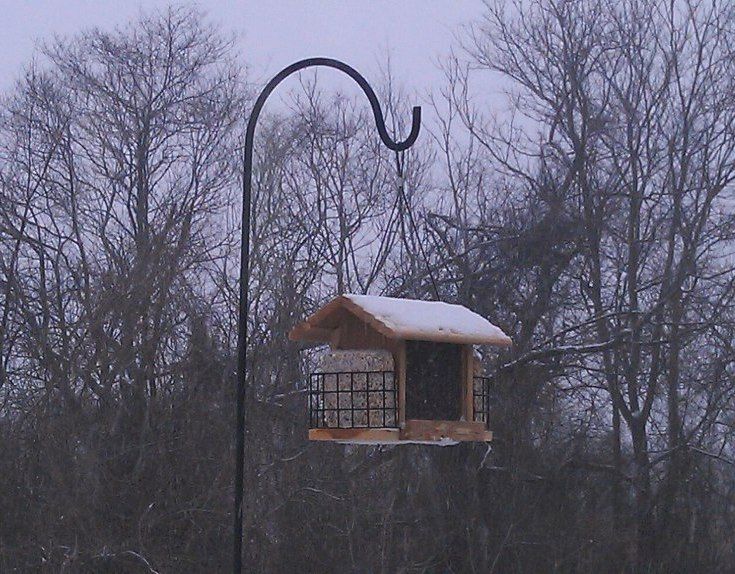 The sheep and goats don't seem to mind the snow either. I love feeding the animals when it's cold, because I feel like I can make them warm and cozy and all it takes is a good bit of hay.
Some people would look at the snow on their backs and think they're poor, freezing animals. Really it means that they're well insulated against the cold since the snow isn't melting. All that wool and extra layer of hair make a huge difference and the animals stay nice and warm.
The goats get wider every day! I've been bringing them in the barn every afternoon for their grain, trying to get them in the routine of coming back in the barn. June is used to it, but Ida isn't. It didn't take long though. I think after 2 days, Ida knew exactly where to go when I opened the gate to let her out of the pasture. She now runs to the barn and waits for me to follow to scoop the grain into her feeder.
My two does are staying warm too. They cuddle together and I give them plenty of hay and they seem perfectly content. One of them should be bred, due any day to kindle. I hope she's actually bred!
Unfortunately, after a few snow flurries this morning, the weather is going to continue to warm up and we'll have mild, rainy weather the rest of the week. Boo!