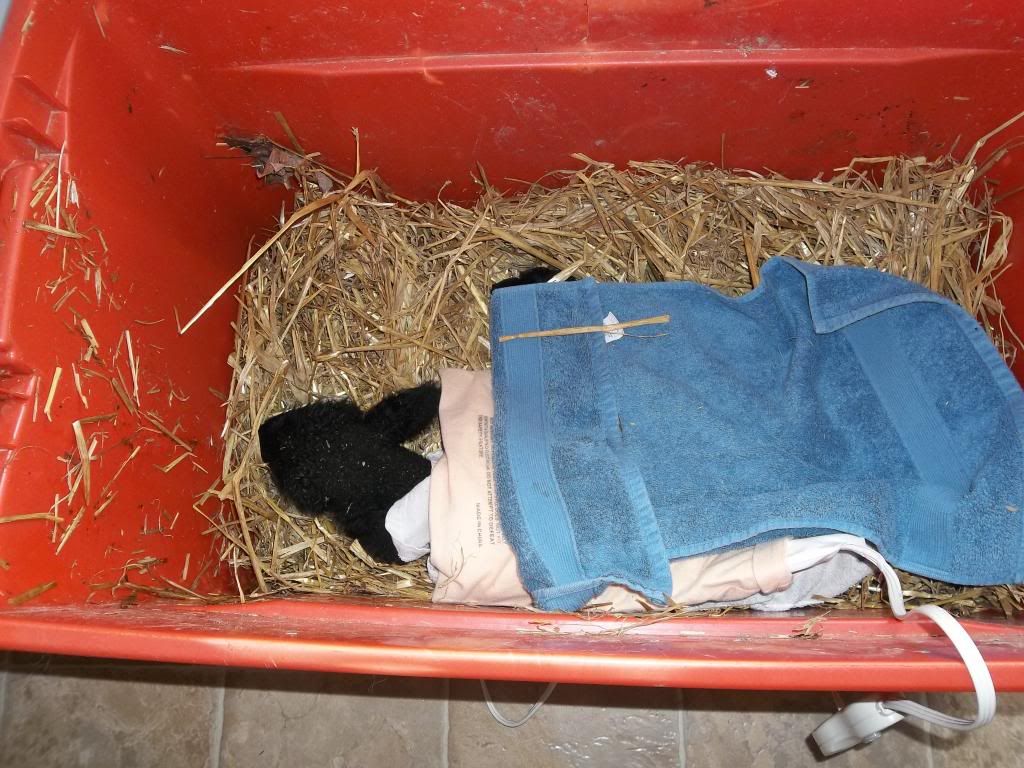 Yesterday I noticed the bigger of Barley's two ram lambs was not looking good. He was lethargic and hunched looking. I thought he wasn't getting enough to eat, since Barley doesn't seem to be great at standing still to let the lambs nurse. I milked her out and fed him a few ounces of milk by bottle a few times that day, and hoped he just needed more groceries and he'd perk back up. He didn't have a fever, and I gave him an enema just in case he was constipated and not wanting to eat. This morning I went out to feed and he was much worse.
I took his temperature and it was very low, only 97.7 (normal sheep temp is 101-103*F). I first put him under a heat lamp, but then after talking to my almost-vet friend decided he'd be better off in the house since he was hypothermic at that point.
I brought him in and put him under the heating pad, and tube fed him a sugar water (using Karo syrup) solution. Unfortunately, I didn't have any dextrose solution or lactated ringers. David happened to be in town, so he picked up some pedialyte for me, and I've since tub fed him a few more times with a pedialyte/sugar solution. I gave him some vitamin B complex and a dose of antibiotics, since his temperature spiked to around 103 today. He's not able to keep a steady temperature, so I'm having to use the heating pad now and then to keep him at a good temp.
I'm hoping he'll perk back up and survive, but I'm not too sure he will. I'm doing all I can though, so hopefully it's enough. If he makes it through the night I'll pick up some dextrose solution and lactated ringers tomorrow. Cross your fingers for him!