I can't believe it has been 3 weeks since my last blog post! We're already into the second week of October and it's flying by. Except for this past weekend, the weather has been really great. This weekend was very warm, but luckily now it is back to fall weather.
With fall comes breeding season. The sheep have been in with the ram all year, which is new for me. Usually I like to keep them separate but this year I didn't have a buddy for the ram, so he stayed with the ewes. I think I'll see if I can borrow the buck this weekend, and get the goats bred soon. It's always hard to figure out if I want them to kid early, or later in the spring. I'd rather milk in the cooler weather, but I don't want to be feeding kids in the freezing cold weather. If June and Ida get bred mid-late October, they'll kid mid-late March, which is a pretty good time.
I'm expecting 2 litters of rabbits any day now. These will be my last litters through the winter I think, unless I decide to move the does into the barn for the winter. I'm still planning on doing a post on the meat rabbits, but I just need to get organized and dedicate some time to finding the pictures....I took them last summer. It's not like I procrastinate or anything.
Now that it's fall, it's time to do some work in the yard. Things need to be done, like making sure all the animal shelters are structurally sound for winter. The windows need to be put in the chicken coop, the rabbits need a windbreak, bedding needs to be added, etc. Seems there's always stuff to do. The good thing though, is that the weather is nice and cool and you don't get all sweaty!
Some other time, when it's not almost 10pm and I have more time, I'll post some pictures of things that have been going on. For now, I'll leave you with a couple of pictures of the dogs snuggling.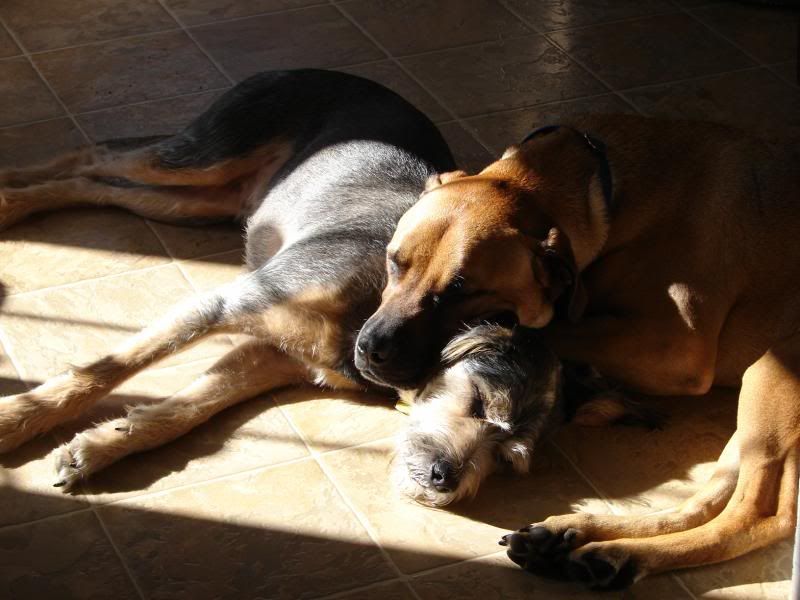 And a close up...